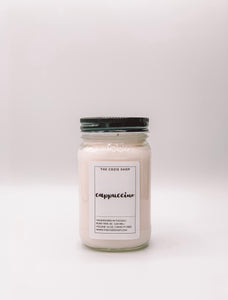 Cappuccino 16 oz Candle
Dragging at 3 pm, but don't want to drink coffee because you want to sleep tonight? Problem solved. The smell of fresh brewed coffee and hazelnut will awaken your senses and help you power through.
Scent: cappuccino coffee with hazelnut
Size: 16 oz
Burn Time: 80-120 hours
Fragrance Notes: 

top - fresh brewed coffee, cream
middle - Arabic coffee beans, brown sugar
base - dark chocolate, hazelnut
Handpoured in Tucson, Arizona. Cruelty-free and ethically sourced.
Candle Tips
Trim your wick – Your wick should be only 1/4" long every time you light your candle. Too long and you will create excess soot around the candle rim.
Create a large melt pool for an even and complete melt – Please consider burning your candle for 30 minutes initially, or until the wax has a complete melted top layer. This is important to ensure an even burn throughout the lifetime of the candle.
Do NOT leave your candle unattended. – Please exercise standard fire safety with your candle. Do not burn your candle unattended. Do not leave a lit candle around children. Keep away from items that can catch fire. Jar is hot while lit and immediately after extinguishing the flame
Copyright The Cozie Shop, 2019. All images, designs, and text are copyrighted and cannot be copied, altered, or resold. All purchases are for personal use only.